| | |
| --- | --- |
| Posted on 4 May, 2017 at 11:50 | |
Back before World War II, my grandfather helped open a brewery in Lithuania. When the Soviets occupied Lithuania during the war, that brewery was seen as a threat of national pride, one of the many beacons of rebellion against Soviet oppression in a quest to keep the Lithuanian language and culture alive. My grandfather was arrested as a patriot freedom fighter, and he and my grandmother were sent away to a Siberian concentration camp. My mother was, in a sense, orphaned for the next eight years in Lithuania, in the care of some Russian couple who viewed her as an infidel in need of conditioning. Miraculously, both my grandfather and grandmother survived the camp eight years later, but they came back to the brewery having been dismantled, paper trail destroyed. For all intents and purposes, in the Soviets' mind, it had never even existed. My grandfather, heartbroken, picked up the pieces and moved on. He had been bruised, battered, bloodied, tortured, starved, and humiliated, but the fire in his belly never died. He pursued a legal career in the United States and eventually brought my mom across the pond with him.
My father's dream was to help sick people. He wanted to be that doctor that made house calls from around the block, the small-town doctor who charged little, enough to support his family. He was a physician (with an impressive 3.85 GPA in medical school I set out to beat) who decided not to work for a clinic or be anyone else's boss but his own. He hung out his own shingle and charged $25 per office visit ($35 right before he retired). The big HMO, pharma, and healthcare lobbies tried to dissuade him from his independence too many times to count over multiple decades via threat of lawsuit, cost-prohibitive information technology requirements, withholding payment, and various legal barricades. At times it was pretty bad for us growing up. We had an 18% mortgage (thanks, 1980) that my dad was struggling to pay. We had a beautiful home, but we never had much money. Both my brother and I went to public schools. Most of the 80s and 90s my dad spent being on-call at the hospital in hopes he got paid for his emergency calls. He was working at the mercy of the insurance companies, who at times would pay him pocket change for performing an emergency trachiatomy. It's safe to say we were struggling financially for well over a decade and a half. So my brother and I delved into farm chores to help our mom grow food for our table, and we rarely went out to eat as a family. I studied my ass off, graduated valedictorian of my high school class, and earned a full ride to Loras College, saving my parents (and myself) $80K+ in tuition fees. That was the best way I felt I could help.
My dad joining a clinic would have made all those financial troubles disappear. Someone else would have taken care of the paperwork. The threats would have all disappeared. The letters would have stopped coming.
But then he wouldn't have been his own boss. He'd have some snot-nosed business school brat like me telling him what to do. And those intentions and marching orders wouldn't have necessarily been in the best interests of his patients. He'd be told which drugs to prescribe. He'd be ordered what to invoice and what to pay. He'd be pressured to attend doctors' balls and fundraisers and live a life that wasn't authentic to him. And just the thought of that was soul-crushing to him.
Despite the difficulties he encountered his entire career from staying independent, he always stuck by his principles, and my mom supported his life path 110%. They were a team. She knew what he was feeling. She had seen and felt that same spirit from her own father and had pursued her path of bringing cultural art to people in the form of opera singing as a soprano and as a choral director. She'd finish her concerts, return home, and change into her farm clothes to help tend to our needs, make sure we finished our homework for both our American and Lithuanian lessons, and take care of the farm.
This wasn't a life of extravagance and social butterflying we were raised in.
It was a life of humility, of staying grounded, but most importantly, of being true to yourself and your values.
In much the same spirit, I created Brewed For Her Ledger to help launch and expand independent craft beverage entities. The number one issue we face in the craft beverage industry is opening and operating undercapitalized. It breaks my heart to see an artist create an incredible product only to have it disappear from the shelves due to ignorant business decisions or by being squeezed out via predatory pricing. The independent craft brewery often finds itself carrying sticks to defend itself in a gun fight against the conglomerates, the behemoth Goliaths who will stop at nothing to crush the independent spirit. The little guy struggles the most with finding capital and in understanding the business landscape or the importance of cash flow management. The little guy requires the greatest amount of guidance to navigate these complex waters for survival. Thus, my mission through Brewed For Her Ledger is to support the independent craft brewery through its launches and expansions. If one of my clients decides to sell to a conglomerate that funds lobbies that hurt or block the interests of the independent craft brewer, I will amicably release them as a client upon completion of the sale. For at that point, this brewery no longer needs my help. It has the resources of Goliath at its fingertips, and someone from corporate headquarters will play the role of what I hoped to have helped build. I will be proud and wish the entity my best, but it will no longer espouse the values of who I represent.
To this day, I have not yet run into this situation, but I am mentally prepared for the day that happens.
To some of us, the easy path won't allow us to rest our heads peacefully at night, because the gnawing at our soul reminds us it is not authentic to who we are. At times it feels we are punished for being true to ourselves. And yes, blazing an independent path will often be lonely, arduous, and not exactly financially rewarding. It will test us in ways we never thought possible. Some of us will give in for various reasons, and that's okay. You don't deserve to be vilified by others who turn on you for the decisions you make or for choosing an unpopular path. All choices bear consequences, but what others will say to you should mean nothing. What matters is that you can face yourself with your decisions and be at peace. That the path you've chosen is true to you. And if it isn't, you get out. You get out before you allow yourself to succumb to desensitized acceptance and apathy.
My grandfather could have kept quiet and not ever had built that brewery. My dad could have joined a clinic and never had to worry about money. But they didn't. They couldn't have lived with a lesser version of themselves.
Much in that same respect, Brewed For Her Ledger exists for that same reason. We support the independents, the rabble rousers, the dreamers. Let your freak flags fly high. We're here to help you lead your legacy.
Cheers.
| | |
| --- | --- |
| Posted on 24 January, 2017 at 13:40 | |
In January 2017 Brewed For Her Ledger added Brian W. Zick to the team as our Financial Analyst. Brian is a CPA who came to us from Bernard Robinson & Company in Greensboro. He graduated from Appalachian State University in 2008 with a degree in marketing, then subsequently returned to earn a second degree in accounting in 2013. His broad experience working with small businesses and not-for-profits, coupled with his passion for craft beer, made him an ideal fit for the needs of our growing consultancy. When Brian isn't slinging numbers, you'll find him slinging discs, camping, and hiking throughout western North Carolina's mountains. 
Welcome, Brian! We're glad you've joined us!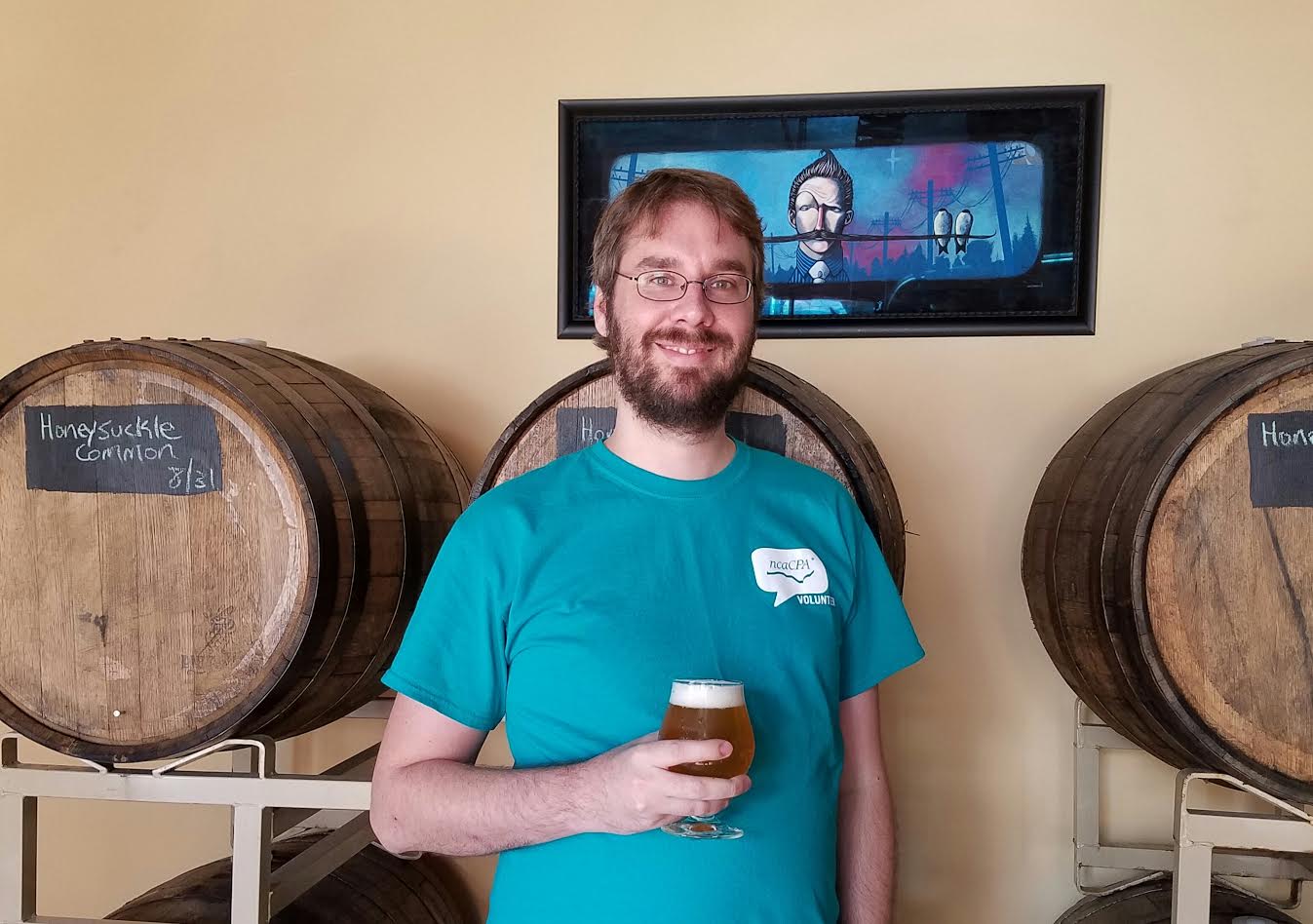 /